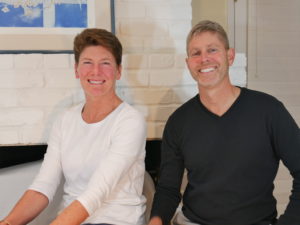 Who are we?  We are a couple of people just like you.  In our lifetime we've had both wonderful experiences, and we've had devastating blows.
I (Beth) grew up in a very Catholic family, conservative with money and was always taught to respect the rights of others.  While I was growing up, education was emphasized as well as becoming my own person.  There was an expectation that going to college would create the financial independence to ensure self-sufficiency in my own life.  My family was always there for support, but it was from a distance and not heavy-handed.  After graduating from college I went on to a successful career in large companies and gained many valuable experiences, but after about 15 years recognized it was time for a change.
Peter grew up in a variety of places ranging from Vermont to Florida.  His family experienced frequent moves, divorce and ever-evolving perspectives around religion and spirituality.  His interest in science led to several college degrees and then an additional degree in business and technology.  He loved the logic of software and science. Afterwards, he worked in large companies and then started an independent software consulting company.
Together we began a software company with very little knowledge of the startup space.  The net result of our wild 10+year ride in the startup world was a company that led to an industry-wide transformation that benefitted many.  However, in the later years of this company, we were sued by our largest customer and almost went broke.  During that perilous time, we really probed our thinking, wondering why something so bad could happen to us.  It was in that painful and lengthy soul-searching that we began to understand how our thoughts, beliefs, and feelings impacted our entire life including the immediate problems we were facing.
In this difficult time, there was a moment when Peter finally found something that he couldn't find fault in the logic.  It was the power of thought.  I noticed it right away when he approached me with his discovery.  I was immediately interested because Peter could always find a hole somewhere, but I was still skeptical.
Over the past few years, we have become very conscious of our thinking and have begun to understand some basic principles.  While still actively learning about how our daily thinking impacts our life, we decided to begin to share what we've learned through You Can Choose books, videos, and seminars.  It is simple to purposely choose the life you want.
Your Thoughts Matter and You Can Choose Your Thoughts