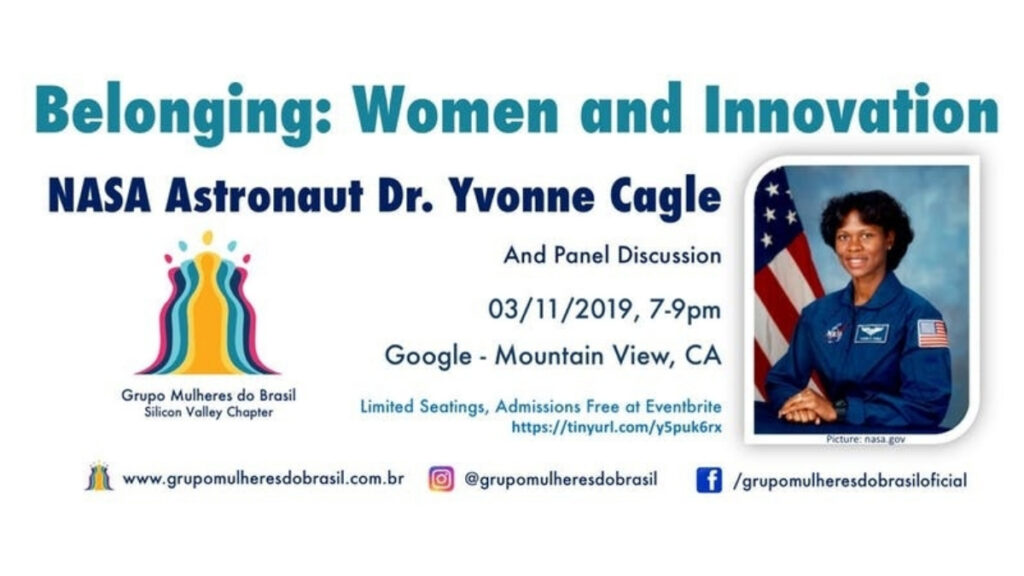 Belonging: Women and Innovation
Join us on an inspiring evening as NASA Astronaut Dr. Yvonne Cagle will share her journey, and connect with great minds of Silicon Valley.
About this Event
All the bright minds of Silicon Valley know the value of inspiration and connection. We invite you to be part of this creative journey with us, as Men and Women build together a new pathway to the Future of Technology and Innovation.
Keynote Speaker
Dr. Yvonne Cagle is a NASA Astronaut and Family Physician, Inventor, and Entrepreneur. She retired in 2008 as a Colonel in the US Air Force where she served as a Senior Flight Surgeon.
Her groundbreaking work is galvanizing NASA's initiatives in biotechnology, sustainable energies, and disaster preparedness.
Dr. Cagle spearheaded the Commercial Reusable Suborbital Research Program (CRuSR). Previously, she served on faculty as the NASA liaison for space exploration and space exponential technologies with Singularity University.
Her currently research is on polar simulations for neurocognitive performance and crew health and readiness during polar and lunar/Mars simulations.
Dr. Cagle was a Brussels TEDx Brussels Speaker for 2012 and a TEDx San Francisco Speaker for 2018 and most recently spoke at RD Summit 2018 Florianopolis, Brazil.
Panel Discussion Guests
Beth Bostwick: Entrepreneur, Author and Business Coach for Women
Laura Fragomeni: VP at Walmart and Brazilian Lawyer
Dan Martin: University Professor and Researcher at CSU East Bay, and Consulting Scientist for the Center for Compassion and Altruism Research and Education (CCARE) at Stanford University.
Heloisa Gomyde (Moderator): Brazilian Journalist, for the last six years was a news anchor at GloboNews, Brazil's most important cable news channel.